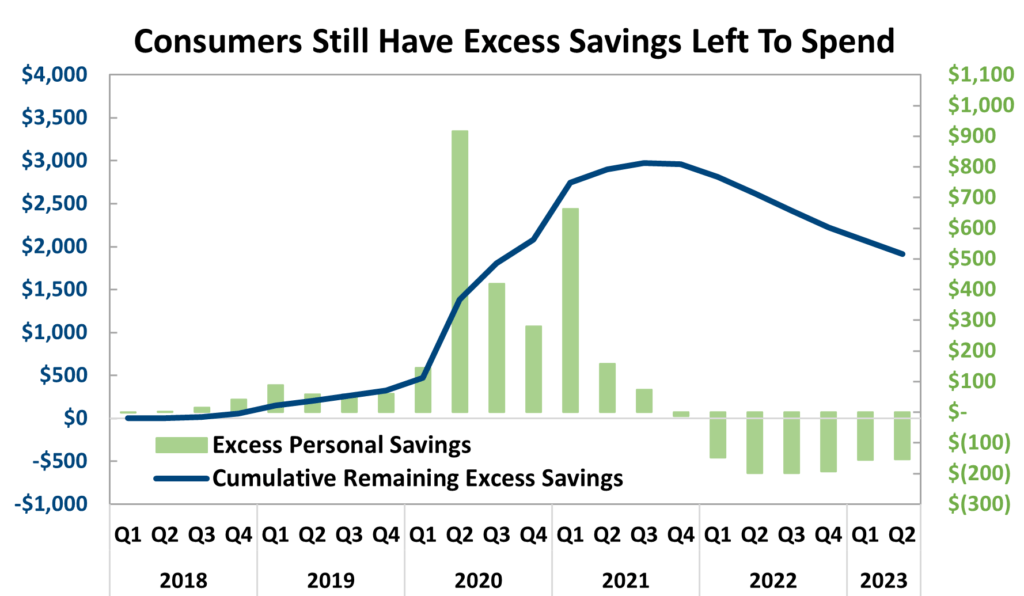 This most recent Fed Beige Book credits Taylor Swift's Eras tour with boosting the economy. The Philadelphia Federal Reserve wrote, "May was the strongest month for hotel revenue in Philadelphia since the onset of the pandemic, in large part due to an influx of guests for the Taylor Swift concerts in the city." The Eras tour is one of many anecdotal signs that consumer spending is very strong and that spending preferences are changing.
The accompanying chart shows the excess savings that accumulated during the pandemic. During the pandemic, government transfer payments, higher wages, less spending, and the student loan payment pause contributed to an unprecedented increase in excess private savings. Saving rates have since collapsed, but consumers still have a large stock of savings from which to draw. The Fed can raise interest rates and slow purchases of big-ticket items like houses and cars. However, the pandemic savings is providing consumers with ample funds to buy Swift tickets and to keep overall consumer discretionary spending high, which has contributed to economic growth being surprisingly strong.
Swifties are also emblematic of a shift in consumer preferences. Pent-up demand for experiences following COVID and a shift in buying power towards the millennial generation, which prioritizes "experiences" over "things", has led to increased spending for entertainment and leisure. The stock market has noticed: Airbnb, possibly the purest play on millennial travel, is up 78 percent this year. Hotels and cruise lines (+48% YTD), brewers (+37%), airlines (+25%), and casino gaming (+35%) are all benefitting from the increasing demand for experiences and are among the strongest performing industries outside of the technology sector.
The post-pandemic economic landscape is different than pre-pandemic. Fiscal policy and consumer behavior have become more impactful and monetary policy seems less effective in controlling economic growth. For the last decade, monitoring monetary policy had been the key to understanding the economy and markets. Now, the fiscal also needs to be considered, as consumers have a large amount of cumulative excess savings that they could spend to support economic growth in the coming months.